October 8th, 2011 by admin
MATC's Grassroots Series Welcomes Poet Patrick Moran to Oak Creek Campus Oct. 19
OAK CREEK – The Milwaukee Area Technical College Grassroots Series will host poet Patrick Moran on Wednesday, Oct. 19, from 10-11:30 a.m. The event will be held in Lecture Hall A on MATC's Oak Creek Campus, 6665 S. Howell Ave. The presentation also will be broadcast to MATC's campuses – Downtown Milwaukee (Room T307); Mequon (Room A 289); and West Allis (Room 345).
Moran will read from his work "Tell a Pitiful Story" the basis of which is the signs and symbols utilized for communication by hobos during the Depression. He will take questions from attendees. Copies of his work will be available for purchase.
Patrick Moran's poems, essays and translations have been published in many magazines including The Boston Review's Poet's Sampler, The New Republic, The Tampa Review and The Writer's Chronicle. He is a graduate of the Iowa Writer's Workshop and is an associate professor of creative writing at the University of Wisconsin-Whitewater.
Grassroots Series events are intended to connect issues studied in liberal arts & sciences classrooms with our everyday lives.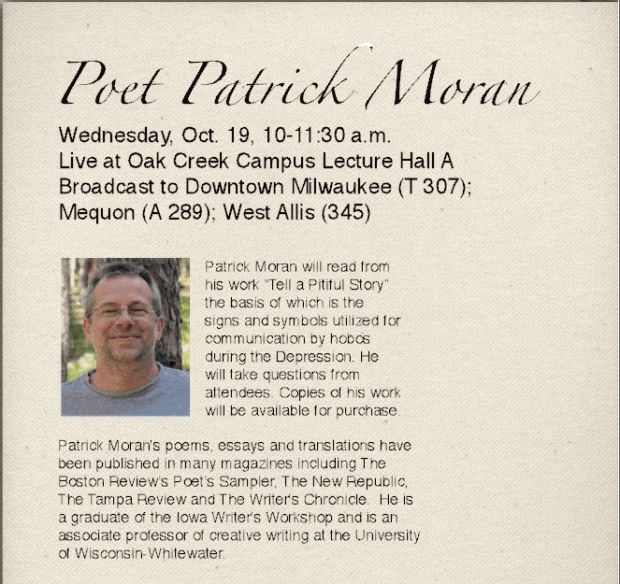 ---
Comments RSS Both comments and pings are currently closed.