2013-14 Phoenix now available!
——————————————————————————————————————-
Staunch MATC Phoenix supporter Jonathan Cardew was recently featured in the Atticus Review!

Not only is Jonathan a MATC English Instructor, he has given his personal time and effort to drive the MATC Phoenix forward and currently acts as a voluntary faculty reader for the magazine.
He even plugs our very own MATC Phoenix in the interview!
Follow this link for insight into Jonathan Cardew's writing thought process and for a sample from his creative works.
.Thank you, Jonathan, and congrats!
——————————————————————————————————————-
Open Mic event 
THE MATC ENGLISH DEPT & THE MATC PHOENIX PRESENT…
HOSTED BY THE MATC PHOENIX Student Editors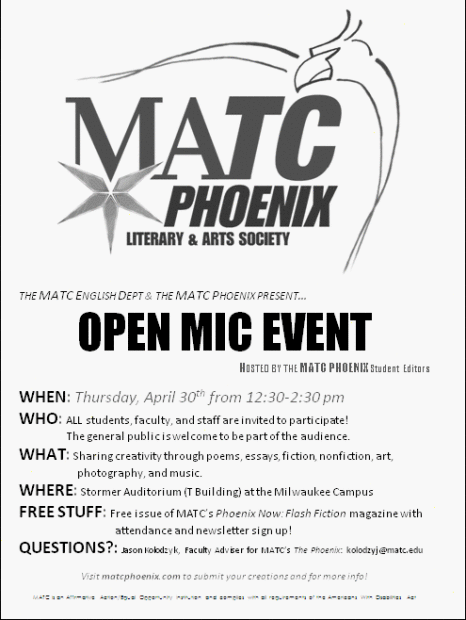 WHEN: Thursday, April 30th from 12:30-2:30 pm
WHO: ALL students, faculty, and staff are invited to participate!
The general public is welcome to be part of the audience.
WHAT: Sharing creativity through poems, essays, fiction, nonfiction, art, photography, and music.
WHERE: Stormer Auditorium (T Building) at the Milwaukee Campus
FREE STUFF: Free issue of MATC's Phoenix Now: Flash Fiction   magazine with attendance and newsletter sign up!
QUESTIONS?: Jason Kolodzyk, Faculty Adviser for MATC's The Phoenix: kolodzyj@matc.edu
MATC is an Affirmative Action/Equal Opportunity Institution and complies with all requirements of the Americans With Disabilities Act
Are you interested in joining the Phoenix Student Organization?
More information
.
---